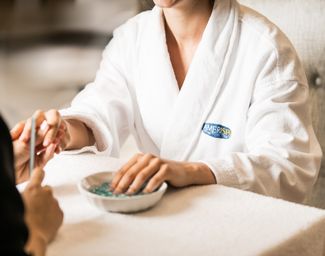 Amerispa Estrimont Suites & Spa
44 Avenue de lAuberge, Orford, J1X 6J3
Awaken your senses in the bucolic environment of Orford. The calm and peace that reign over Amerispa Estrimont Suites & Spa make it an ideal place for absolute relaxation.

Your body is precious and requires attention. Whether you are staying at this four-star hotel or just here for a visit, trust in the team at the Amerispa centre. Take advantage of a wide range of massage therapies, skin care treatments and body care treatments. It's time to think about you—let yourself be taken away by a wind of serenity.

Add the comforts of a hotel to the blissful feeling of massage therapy. The location of this haven of peace, just five minutes from Mont-Orford, will allow you to appreciate the clean mountain air, as a couple or with friends.

With the purchase of a spa package or 2+ hours of services, you will benefit from complimentary access to all hotel facilities. From the hydrotherapy centre to the Scandinavian baths, saltwater pool, sauna, Nordic shower and relaxation yurt, well-being is at your fingertips.

Take time for yourself and let time stand still with Amerispa.