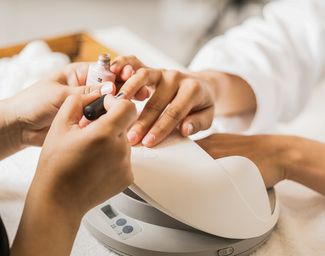 Amerispa Le Bonne Entente
3400 Chemin Sainte-Foy, Quebec, G1X 1S6
Completely renovated and located at the heart of magnificent gardens and waterfalls, Amerispa Le Bonne Entente will transport you to a world of relaxation and peace. Dive into well-being with a relaxing massage or a revitalizing spa treatment. Maintain and restore your skin and natural beauty with our new high-end medical aesthetic treatments.

Your body is precious—take care of it. At Amerispa Le Bonne Entente, you will be able to put time on hold. Let yourself go, alone, as a couple or with friends, while enjoying our wide range of massage therapies, skin care treatments and body care treatments. Take a quiet moment just for you with the exquisite manicure and pedicure station and spacious relaxation area. Our multi-sensory NeuroSpa massage chairs will allow you to extend your experience and appreciate a moment of complete relaxation.

Thanks to our new microdermabrasion therapy, your skin will look like new! This painless treatment eliminates imperfections to give you back that radiant glow that suits you so well. Intense Pulsed Light hair removal is an effective treatment for permanent hair removal and allows long-lasting and fast results.